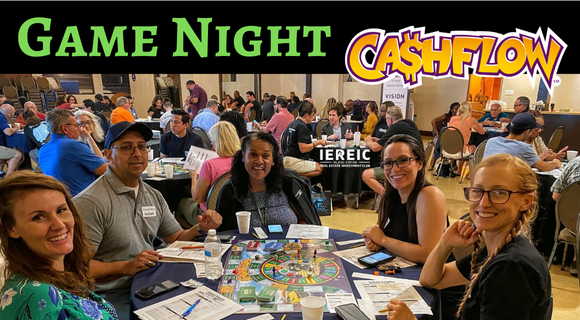 Want to learn how to play the real estate investment game without sitting in a stuffy seminar (or risk losing your entire life savings over it)?
Truth be told, most people never learn these 2 simple ways of making money in this game until it's too late…
…and that's exactly why we started our Cashflow Game Night!
Cashflow is the educational board game our real estate investment club members play that teaches them real-world investment principles without complicated instructions or directions.
We simply cover how people, money and profit move when it comes to real estate investing in a simple, easy-to-understand way.
Pizza is also served during this event.
At game night you will discover:
How to create real-life investment deals out of thin air…
Hot to navigate deal flow so deals move quickly, fairly, and effectively…
The latest tactics and strategies our club uses that are also used by very well-known real estate gurus and experts…
Investment strategies that are timeless and can be used over and over again…
And much, much more besides!
You'll also discover little-known savings and investment strategies that keep your money working hard for you even while you're sleeping.
Family, friends and loved ones are definitely encouraged to attend this unique experience. 🙂
In short, it's totally possible to finally take control of your life and finances, once and for all, and start building real wealth while learning the pattern of success that it takes to get there.