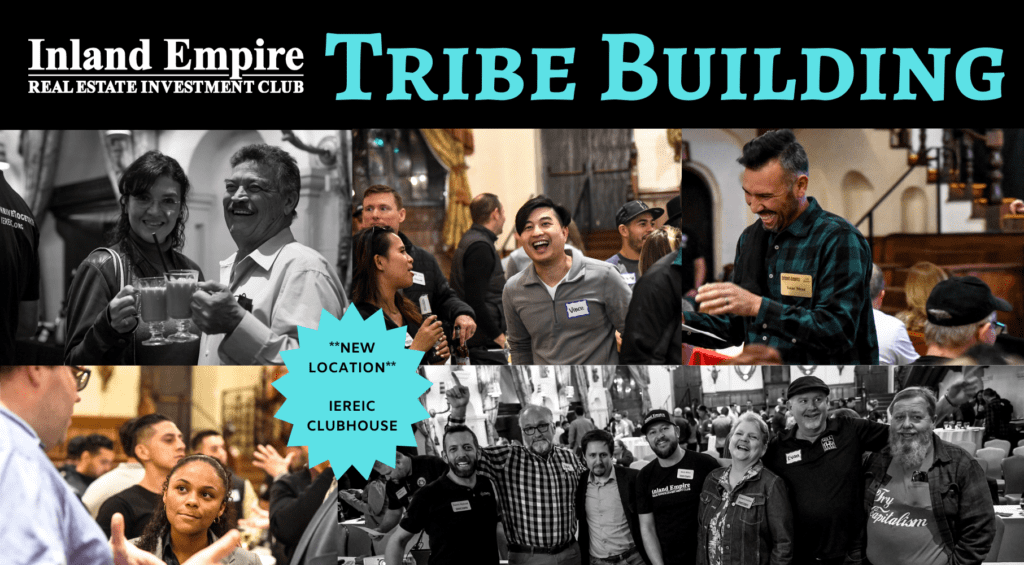 Join us at our flagship event, Tribe Building, for an unforgettable night of networking, learning, and building your tribe of fellow real estate investors! At this event, you'll meet and learn from your fellow members and other experts in the Inland Empire who share your passion for real estate investing.
Whether you're just starting out, have done a few deals, or are a seasoned real estate investor, our Tribe Building event is the perfect place for you to build your tribe and gain valuable insights into real estate investing. This is the premier event for new and experienced landlords, flippers, note buyers, wholesalers, STR's, lease/option fans, and more to build their team and investing skills in the Inland Empire and beyond. Plus, dinner is provided!
At Tribe Building, you can expect to:
For Investors By Investors: connect with like-minded real estate entrepreneurs who can provide everything from moral support to experienced, local advice to referrals, helping you on your journey towards financial independence through real estate investing.
Meet our vendors and service providers that help you run your rentals, rehabs, wholesale deals, and make your business more profitable with less hassle.
Find sources of deals, money, partners, and expertise that will accelerate your success, whether you're brand-new or an active investor!
Learn from and engage with some of the best in the business, get access to top-tier deals and powerful resources, and learn key investment strategies while networking with fellow investors, entrepreneurs, and real estate professionals.
And much, much more!
Don't miss out on this opportunity to connect with the real estate community in Riverside and beyond, build your tribe, and achieve financial independence through real estate investing.
Visit meetup.com/IEREIC and look for our next Tribe Building event!