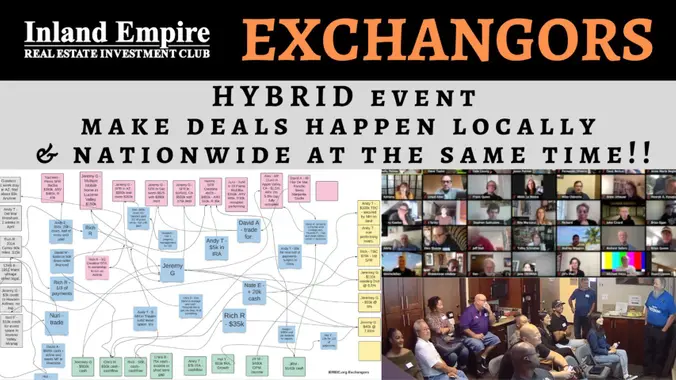 EVERY THURSDAY AT 12PM
Exchangors is unlike any REIA event you've ever been to! It blends both in-person and virtual meetings to help you build your real estate investing portfolio, achieve financial independence, and learn about trading what you have, for what you need, to get what you want.
Our Exchangors meetings focus on making deals that benefit everyone involved, whether you have deals to sell, skills or items to trade, money to lend, notes to swap/create, or need help finding a contractor, a partner, or other resources!
At Exchangors, you'll have the perfect opportunity to connect with like-minded individuals and discover what you need to achieve your real estate investing goals.
Even if you're not sure if you have anything to contribute, come hang out, watch, and learn from experienced real estate investors. You may even surprise yourself with what you can bring to the table! 
RSVP below for either way you'd like to attend and you will be emailed (check your spam if  you don't get it) the information on how to attend!